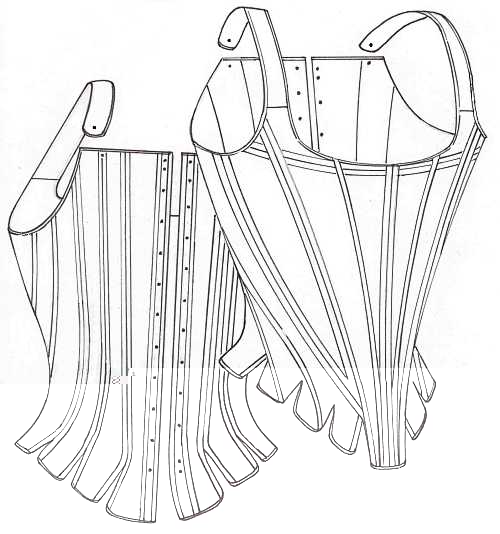 In the 18th century stays were worn to reshape the upper female torso. High fashion stays with shoulder straps were designed to create a fairly straight line from bosom to navel (and beyond), compress and widen the bosom, narrow the back, elongate and reduce the waistline. Stays were the basic foundation garment upon which all subsequent garments were built. From comments of the time among the fashionable, shape was more important than comfort.

These half-boned stays with shoulder straps are designed to reshape your person into the conical 18th century fashionable ideal. They may also restrict movement of the upper arms and will compress the lower rib cage.
This original pattern incorporates features from extant 18th century stays in the collections of The Victoria and Albert Museum, London; The Gallery of English Costume, Manchester; and The Kyoto Costume Institute.

In selecting your size, please refer to the bust/waist measurements given on the size chart as pattern sizes and clothing sizes are rarely the same.

Fully illustrated instructions included, plus How to Adjust the Stays Pattern to Fit Your Figure.